Using Seesaw to Elicit Student Thinking
In this series of blog posts, we highlight educators in the field who are using remote learning resources intentionally to build classroom community, collaboration, and student sense-making.
With the shift in 2020–21 to hybrid and remote environments, collecting authentic formative and summative assessment data presents a challenge. NCTM describes the role assessments play for student learning in Principles to Action : "Effective teaching of mathematics uses evidence of student thinking to assess progress toward mathematical understanding and to adjust instruction continually in ways that support and extend learning" (2014).  
At the start of the 2020–21 school year, Bridges educators in Illinois' Downers Grove District 58 found that the challenges of remote learning highlighted critical questions: "How can we accurately assess student thinking?" "How might we use tech tools to understand students' thinking rather than simply noting whether their final answers are right or wrong? The value and emphasis Bridges places on student thinking led to the adoption of the curriculum.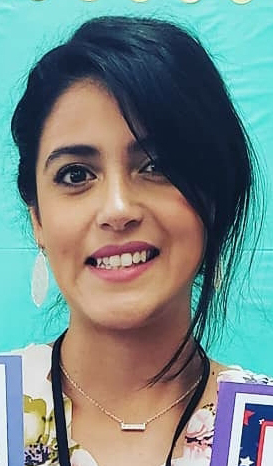 Christina Diaz is a 4th/5th grade dual language teacher in Downers Grove. She's inspired by the way her district supports teachers and students with mathematics instruction. At the start of the year, teachers in Downers Grove considered how they might use Seesaw as a platform to make student thinking visible. They were interested in whether it could allow students to easily capture, demonstrate, and explain their thinking. To begin, instructional coaches in Downers Grove set up Seesaw activities with problems from student book pages, Home Connections, Number Corner checkpoints, and the unit screeners (login required) MLC created this year. The coaches prepared Seesaw activities that capture assessment problems on different pages, giving students ample space to show their thinking.

Christina and her fellow educators use Seesaw as a tool for capturing student thinking. Students can upload images of their work, giving teachers a quick way to see student work and offer feedback.
Now, Christina's students have the option of uploading images of their work from the physical student book or Home Connections. They can also capture their thinking with Seesaw's pen, text, audio, and video recording tools. Over time, Christina learned that her students appreciate being able to first use paper and then upload to Seesaw to show their reasoning.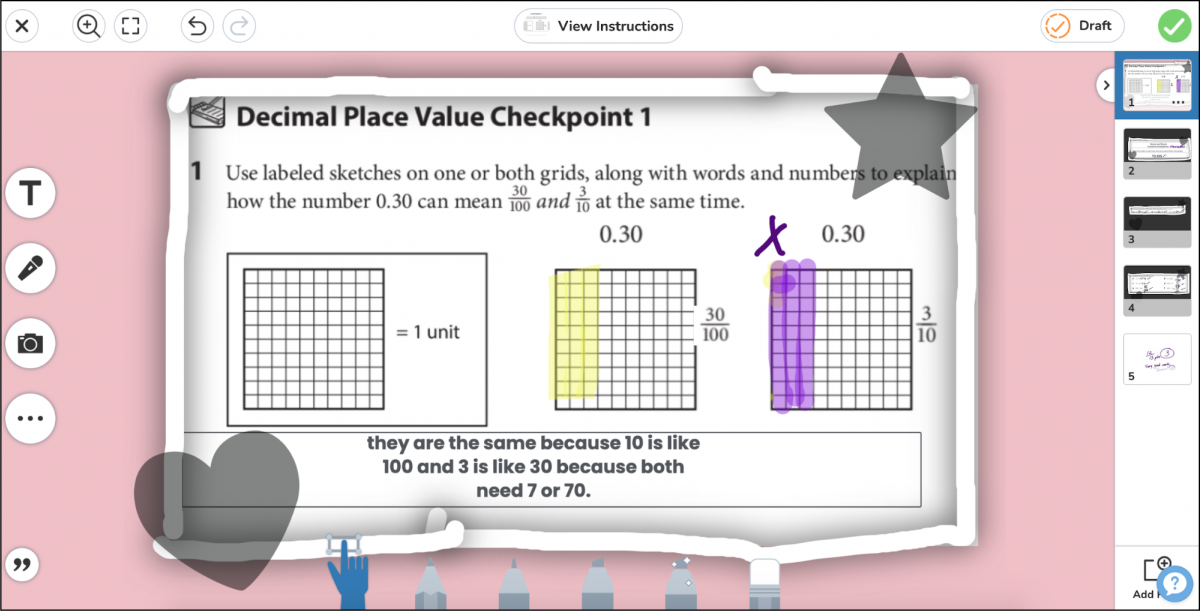 Students in Christina's class can use Seesaw tools to annotate over a problem, writing and using the recording tool to explain their thinking.
Because she can't be in the same room as her students, Christina appreciates being able to see more than just their answers. "With Seesaw, I'm able to actually see student work," Christina shares. "I can slow down and unpack their thinking." Another key aspect of Seesaw, Christina reflects, is the opportunity to give students feedback. Christina regularly responds with comments attached to their work. Students often thank her for giving them specific feedback. They're also excited when Christina uses student work as an opportunity for launching a discussion the next day. During a year when teachers have little to no face-to-face time with students, these opportunities for relationship building are critical.  
Christina also adds a 4-3-2-1 self-reflection as the last page to every Seesaw homework activity. Students self-assess their level of understanding with the material. While some students rank themselves highly, others can be overly critical of their progress. Being able to hear from students how they're feeling about their level of understanding gives Christina another opportunity for dialogue to help position them as knowers and doers of mathematics. "I have [some] students who rank themselves a 1 because they think they don't understand anything from the assignment. This gives me a chance to reaffirm students who don't see all the progress they've made. I can point out the strengths in their work and help them see how much they're actually able to do. They CAN do math!"
As she begins the second half of the 2020–21 year, Christina is eager to continue to use Seesaw in conjunction with Bridges. She thinks how she might use the features of Seesaw to offer students even more descriptive and concrete feedback on their work. She's considering using the screen recording tool to record audio/video comments as she annotates on the screen directly in students' assignments. Knowing that her students already enjoy this platform and the way Seesaw allows them to share their work easily, Christina is eager to see how they respond to seeing and hearing feedback directly from her.
To learn more about the Seesaw platform, see this video in the BES in the Professional Development Library.