Introducing Bridges Pre-K
Join us in celebrating the arrival of Bridges in Mathematics Pre-K , an exciting new preschool math program. Bridges Pre-K features intentional math instruction built around research-based developmental progressions.
The program meets state and national early learning standards while helping children develop the skills, concepts, vocabulary, and attitudes they'll need to succeed with math in kindergarten and beyond.
Bridges Pre-K includes nine units of instruction, one for each month of school. Each 20-session unit features problems, investigations, games, stories, experiments, and calendar activities related to an engaging seasonal theme. Children have fun learning math with apples in September, pumpkins and leaves in October, shapes in November, snowflakes in December, and so on. 
Through the year children count, sort, pattern, solve simple story problems, measure, and work with shapes in different contexts. Instruction increases in challenge level each month, and suggestions throughout each unit address the developmental variations common to any group of young children.
A Bridges Pre-K classroom features a combination of whole-group activities (Number Corner), small-group work (Problems & Investigations), and independent games and activities (Work Places). Daily sessions range from 15–20 minutes for a total of 1–2.5 hours of instruction per week.
The program also gives teachers a wealth of theme-based suggestions to integrate math into the preschool day. Ideas range from snack mats that encourage sorting, patterning and counting to quick "sponge activities" that ease transitions; from setting up classroom shops and services in the dramatic play area to having children mark their storytime choices on a chart.
Bridges Pre-K Teachers Guides and online resources supply everything teachers need to plan their lessons, prepare materials, assess children, and differentiate instruction. An included materials kit contains specialized pocket charts, manipulatives, display cards, game boards, spinners, and playing cards.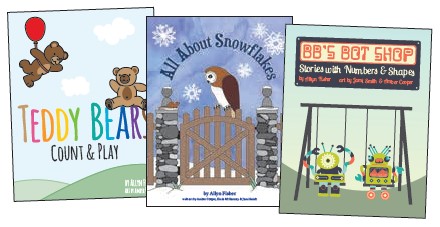 The materials kit also features nine beautifully illustrated read-aloud books, one for each unit. Each book presents 2–4 mathematically rich stories for particular Number Corner workouts or Problems & Investigations activities. The selections feature theme-based counting and numeral recognition, sequencing, shapes and locations, and very early addition and subtraction.
We invite you to learn more at mathlearningcenter.org/pk.